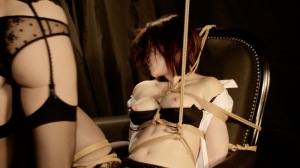 We are immensely pleased to announce our first full Kinbaku movie, La Poupée Noire, realized in high quality video standards from the super talented Director Vincent Vet Studio, starring two incredible models like Charly The Doll and Redsabbath, and, of course, the unique rigging of Riccardo Wildties.
Shot in four days different setting, cold cellar, luxury room and japanese room, with superb lights and suggestive soundtrack, it's a full story with a great plot that will compose a three hours final movie, of which this is the first part.
The movie tells the story of a rich Lady, La Poupée Noire of the title, interpreted by a mysterious Charly The Doll, that, somehow bored and searching for a new thrill, gets intrigued by the services of a very peculiar organization and manages to have a submissive (Redsabbath) captured and offered at her mercy for some time.
The Lady invites at her place the Kinbakushi (Riccardo Wildties) to help her bend Redsabbath more and more to the realization of her games and her fantasies.
Through several scenes of torture and rope sessions, from a chair tie, to a full bamboo transition in Kimono, to an Hashira Shibari, Redsabbath progressively starts loving the feelings lived through this experience, and eventually surrendering to the constrictive ties and the torment, up to a surprise ending..
So, we wish you good vision of the first part, and stay tuned, the story continues..
Authors: wildtieskinbaku
View Original http://goo.gl/CPNFDC