Categoría: Archivo
Visto: 1955
Categoría: Archivo
Visto: 1488
(原文發表於花魁藝色館Dream版,經作者同意後轉載)
◎ munanunu
遊樂園,為一座提供許多大型遊樂設施的場所。
現今遊樂園大多會再加上各式各樣的主題以區隔市場,通稱為主題樂園。
譬如玩樂為主的水上世界、幽闇鬼屋;
增廣見聞的地球民俗村、野生動物遊樂園;
當然也有搭配當今流行話題如海賊展之類的玩意兒。
當主題型樂園越來越多,能賺的錢當然也越來越薄了,
畢竟台灣就也這麼丁點大而已。
於是商人們開始動起歪腦筋,
突發奇想地擬出一座性愛主題樂園的藍圖。
本以為會因主題太前衛遭拒,
卻沒想到獲得大多數股東的支持肯定,
說是一致通過也不為過。
這座性愛樂園命名毫不避諱,
取名為「極樂台灣」,
官方網站入口更是直接18歲年齡的是非題。
設定門檻當然是遵循現有法律,為了不淪為扮家家酒的形式,一定要嚴守把關。
...
Categoría: Archivo
Visto: 1784
Categoría: Archivo
Visto: 2798
2009: Kinbi-ken resumed with its 163rd regular meeting. The models were Hiromi Saotome and Fuyuki Sawado meeting took place on May 10th, on July 12, and on September 27. Fuyuki Sawado's ''Greatest Desire'' was photographed on June 9.
2010 (June 10): Nureki produced the bondage drama Hostage. Director: Kou Yamanouchi. Starring: Fuyuki Sawado, Shion Kasumi, Chimuo Nureki. Photography: Shizu Yamaga. Still Photography. Kei. It will appear in the September-November 2010 issues of Mania Club magazine. Master "K" was an invited guest at the photo session.
2010 (August 21): Performed a "paper puppet show" at Yokohama History Museum (as Toyokazu Iida. Puppets by Maako Sakura).
Categoría: Archivo
Visto: 1738
攝影◎妮可/Gwen ...
Categoría: Archivo
Visto: 1591
Graydancer talks a bit about shibaricon, reviews
Extreme Restraints
' Sex Swing Stand, and then guest Arielle gives a live, very sexy review of the Power Box. This one is basically porn, folks...but listen for a special discount from Extreme Restraints.
Also, the
Full Interview with Master K
is now available for download. Apologies for the disparate audio levels; I worked on it as much as I could, but dammit, Jim, I'm a rigger, not a sound engineer.
ADDENDUM:
Several people have expressed concern that I placed electrodes on Arielle's breasts in the podcast, when the general guideline is no e-stim above the waist. I have addressed these concerns
in my other blog
. Please read there before you email me with comments. Thank you!
ADDENDUM 2:
Special thanks to Evan the KinkyCrafter for fixing many of the sound levels on the Master K interview. Interestingly, he did the same thing I did (ran it through the levelator) but it worked much better for him. Thanks also to Chaos for offering to help.
Categoría: Archivo
Visto: 1927
via :
spanking photo blog
read full article
Categoría: Archivo
Visto: 2403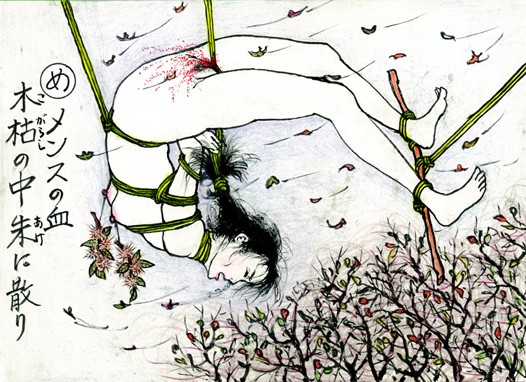 THE ABLIFE May2010
「あぶらいふ」読者投稿連載!
インテリマニアが綴る大人のいろはカルタ
秘密教団「赤満講」が、生け贄となった哀れな少女たちを使って荒ぶる神々を鎮める背徳と暴虐の歳時記。ジャパニーズ・カルトの新境地、雑誌未公開ゾーンを公開中!!
Posted: 2010-05-14 14:28:28
Categoría: Archivo
Visto: 2254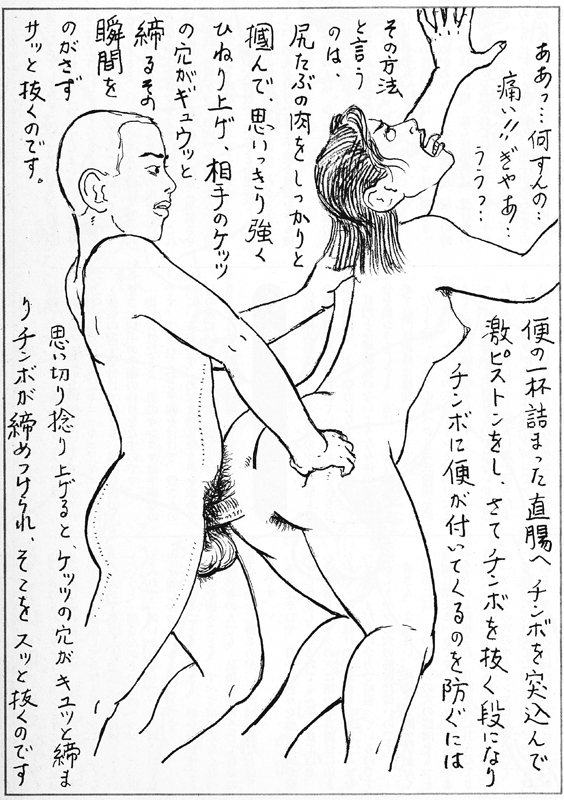 毎週水曜日更新!
これが教科書だ!肛門講座の決定版、復刻連載!
〜ケッツは男女の性別を超越した性器である〜これは、受講生の皆さんにはもう常識であると思いますが、これを裏付ける話は歴史上の中からもも医学的な事例からも見つけることができるのです。今回はそれらを学習しも、より深くケッツへの認識を深めましょう。
Categoría: Archivo
Visto: 1843
"Hachigatsu no nureta suna" fue una de las primeras películas de Toshiya Fujita que cosecho un gran éxito, una revisión nostálgica del fenómeno "Taiyozoku", muy popular entre los japoneses en los años 50.
Leer más: Wet Sand in August (Hachigatsu no nureta suna) Toshiya Fujita, 1971
Categoría: Archivo
Visto: 1929
I'd like to give you a small update of what has been happening lately. Appareantly people start to wonder if we are still active when you hear nothing from us (sorry Mom! :)).
The main reason why there is sort of a cyber-silence from us is that we have started the last project of this year, or more correctly, we plan to have this project finished by the end of the year. In a blog-post at the beginning of 2009 we talked about a number of projects for this year. We are on schedule of finishing all we have planned, the one we're working on now is the last (no, I'm not spilling just yet :)).
A small recap of what I think are the highlights of this year sofar for us:
- RopeMarks has become an official Dutch company
- Our second DVD came out
- The R.A.R.E. meetings started
- A kickass big mainstage show where we collaberated with a lot of people
- A relaxing holiday with friends
Then some things that kept us busy the last month orso.
We went to Hamburg, Germany for a show on the Respekt party of Master Grimme. This edition was a special occasion, it was the 10 year anniversary of the party. What I always seem to say about German parties and location, the people show a tremendous amount of respect and the locations breathe an enormous amount of atmosphere. The Respekt party was no different. We had a great time.
We also did our "RopeMarks Interactive" show again, this time on the B.I.T.C.H. party. RopeMarks Interactive is a night long activity where we interact with the audience and the audience gets the opportunity to experience our style of bondage. You might remember form a previous blog how our first "RopeMarks Interactive" was not executed how we envisioned it. With that knowledge in mind we talked with the B.I.T.C.H. organisation how to improve. This time we are very happy with how it was executed. We had fun and the audience participation (and appreciation) was very good. For ourselves there was a special moment with Miss Duveaux. She wrote about the experience, you can read it here http://www.MissDuveaux.com (scroll down to the "B.I.T.C.H." entry)
There was a short exposure of our material on Dutch national TV again. This time Dutch adult star Sofia Valentine was invited for a program about Japan and Japanese TV. Her input dealt with p*rn (obviously :)) and she was invited to show material of herself in bondage, that was our (still unpublished) work.
The links: Respekt party , B.I.T.C.H. , Miss Duveaux , Sofia Valentine , as always,keep an eye on our calendar .
Categoría: Archivo
Visto: 3119
The Olias Knot was inspired by the symbol shown on the cover art of Jon Anderson's progressive rock concept album, Olias of Sunhillow. The symbol and the knot represent the unity between the earthly and the divine.
Time:
04:18
Categoría: Archivo
Visto: 4557
貞操帯の女シリーズ、全部制覇してるわけではないのですが
見た範囲でのnawabiの単なる好みで選んだ貞操帯の似合う女
第四位
姫咲りりあさん!パーフェクトおっぱいと小悪魔的な顔が素敵
Categoría: Archivo
Visto: 1508
A call for floorwork; Graydancer's opinion on rules vs. principles; Rope Erotica read by La Princesse; and special announcement: the Ropecast is MOVING! Point your browsers to ropecast.net from now on!
Categoría: Archivo
Visto: 3134
Cortometraje creado mediante la técnica de stopmotion con el que la realizadora alemana Amira Fritz participó en el festival A Shaded View on Fashion 2010 de Vogue Italia. Todo el trabajo es "manual", sin utilizar software de postproducción. Aplicando tratamientos físicos sobre el propio negativo
El corto gira entorno a la manipulación en las relaciones. La brillante luz atrae a la mujer hacia una trampa donde la inmoviliza cada vez mas restrictivamente hasta que se queda totalmente aislada dentro de su caparazón
Categoría: Archivo
Visto: 2212
Related Posts
Categoría: Archivo
Visto: 2151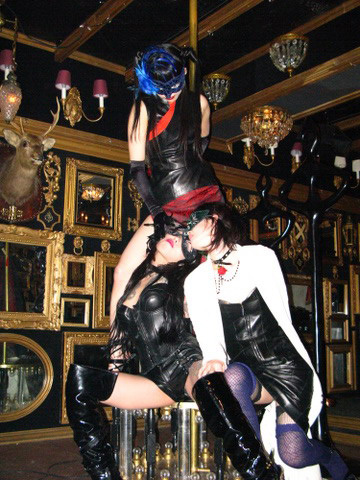 2010.05.023 Sun  at Club BULLET'S
2010年5月23日(日) 東京・西麻布クラブ「BULLET'S」にて開催
ラバリストの孤独とは何か。コアなフェティッシュイベントとして知られる「INCOGNITO」が西麻布の老舗クラブ「BULLET'S」で今年も開催。今回は特に「TOO LOUD A SOLITUDE(あまりにも騒々しい孤独)」をテーマに掲げ、欲深いファンの深層へと切り込む内容に!? ドレスコードをチェックの上、思い切りハードな夜を楽しんでみてはいかがでしょう。
Leer más: 「INCOGNITO XL - Fetish Incubation Masquerade-」開催!!
Categoría: Archivo
Visto: 2229
おもしろいけど、やっぱり南アフリカは、時間おそいなぁ。こないだひさしぶりに、バッテングセンターを見つけて入ってみた。1ゲーム30球で200円……安っ!ひさしぶりなので遠慮して100キロのマシーンを選んで…一球も、空振りせえへんかった!ホームランも、2回くらいでた!腰のひねりとか、シンノスケ顔負け(へへへ~)5番でセンターの時代を、思いだしました