Categoría: Archivo
Visto: 4128
■ さて、緊縛6連発?も終了し、いよいよ締めに
ここまで、気を使う緊張感だったので、ここは、気配りもより必要だし、集中力も要求されるのだが、爽快感溢れる私の一番好きな吊りで( ̄Д ̄)ノ
まずは、後手から もう一つのブラ縛りで、肩の縄を二重に
後ろも シッカリ
Categoría: Archivo
Visto: 2030
[kml_flashembed movie="http://www.pileup.com/babyart/blog-images2/stickychair.swf" width="500" height="300" wmode="transparent" /]
li'l miss sticky kiss has updated her li'l web site - the "fan club" section has been revamped - and a new section for "second life" added - mistakes are liable as she's not too good at this sort of thing - and maybe further tweaking/edits depending on if she can be bothered? - the li'l miss sticky kiss web site is tucked away under "etc" on the baby art menu btw
Categoría: Archivo
Visto: 1710
Oder auch ein Abend an der Förde ;o) Kurz entschlossen ohne viel drum rum haben wir, das waren Minamai, Jörg Oestreich und meine Wenigkeit, uns gestern dazu entschlossen ein etwas länger geplantes Projekt in die Tat umzusetzen. Es war zwar doch noch recht kalt, vorallem der süßen Minamai, doch das hat sie sehr gut überspielt. [...]
Categoría: Archivo
Visto: 2246
Categoría: Archivo
Visto: 1547
Photo Rope and Woman, Misaki Shobo, 1970
My Photo Safari turned into a regular old SM Safari this past Sunday when I happened upon a cool used bookstore in a town a few stations down the tracks from where I live.
They had tons of old magazines, including old movie magazines. Unfortunately, I wasn't able to find any issues of Seijin Eiga (Adult Movies...
Categoría: Archivo
Visto: 2367
Domin Murasaki took this photo,snowy Brussels.
I love Brussels,familiar city.
Murasaki feels familiarity with it now.
Murasaki,I'm right, aren't I?
Categoría: Archivo
Visto: 4092
I'm no expert in terms and here are a few to get started. Feel free to add or correct
A

Agura: A less severe tie similar to an ebi
Aomuke shibari - face up suspension
Asanawa: Literally, hemp (asa) nawa (rope). Hemp is used here to describe a type of fibre, not a specific plant. Typically, it is jute.



E

Ebi: The "shrimp" tie
Ebi-tsuri: The "shrimp" tie suspension



F

Fumo-tsuri: Suspension by one crooked leg



H

Hishi: A tie using diamond shapes. When done as a full body tie, it is sometimes also called hishi-kikkou. The hishi has been popularized by manga, or cartoon, art.
Hashi:Chopstick



K

Karada: Japanese word for body. Used in Western terminology to mean body harness or a "rope dress"
Kataashi tsuri: One-legged suspension
Kikkou: A body tie that ends with a tortoise shell design in the front upper torso.
Kinbaku: Literally tight binding. Generally, only understood as bondage within SM/rope community.



M

M-jo: Masochist/bottom/sub



N

Newaza: Floor work. Word borrowed from martial arts.
Nawa: Rope
Nawa yoi: Literally 'rope drunk'. Sub-spaced.
Nawashi: -shi donotes a trade/profession, like -or, -er or -ist in English, e.g. professor, winemaker. Thus, nawashi is used to describe a rigger of professional level but could as easily be applied to a rope-maker.



R

Ryo-tekubi shibari: Both wrists tied together. It does not matter where the wrists are, or if the tie is cinched, as long as the wrists are tied together.
Ryo-ashi tsuri: Suspending your model with both legs together, i.e. binding both ankles together.



S

S-jo: Sadist/top/master/mistress
Sakasa tsuri: Inverted suspension, the m-jo is hanging head down and the body vertical, not supported by a tsuri nawa on the takate kote. (when pronouncing stress the first SA)
santen zuri
Santen tsuri: Suspended from the takate kote with the ankles in front. Sort of sitting position. San means three, this refers to the number of suspension lines. Another word for santen tsuri is M zuri because the body and the knees up form the letter M.
Sensei: Teacher, master, doctor; he who has gone before.
Shibari: Literally tying, weaving. Generally, only understood as bondage within SM/rope community.
Shuuchi nawa/shibari: Ties designed to embarass the subject.



T

Tanuki: "Racoon dog, suspension by hands and feet tied close together.
Tazuki: Criss-cross harness
Tenugui: Cloth usually typically as gag or blindfold
Teppo shibari: Named for the Japanese flintlock rifle, the Teppo.
Tomei nawa: The safety rope between arms and chest; the cinch.
Tsuka Maki: Sword hilt wrap finishing where the rope is wrapped around and around other ropes.
Tsuri: Suspension (alt. zuri)
Tsuri nawa: Suspension rope



U

Ushirode shibari: A tie on the back of the body. See also: ryo-tekubi shibari
Ushirode-gassho shibari: A tie usual referred to in English as the "reverse prayer tie." This tie is only for the limber! There are Buddhist and Western variations.
Ushiro Takate Kote: Foundational form for most shibari ties, capturing the upper body / breasts and arms in a "U" shape behind the back
Ushiro tasuki shibari: The ushiro tasuki shibari is a hojojitsu inspired bondage. In this pattern the hands are tied in a "W" position on the back and an "X" shape is created between the breast.



Y

Yoko tsuri: Sideways suspension



Z

Zuri: Alternative spelling to Tsuri



P.S. Shinju and Sakuranbo are not kinbaku terms. They were coined by a Westerner, although similar ties exist in traditional forms. Does anyone know who?
Categoría: Archivo
Visto: 1628
Rope by Zetsu and Zeta

I had the pleasure to meet again with Zetsu (he was one of the person behind me meeting Master K and jump starting my rope voyage back in 2010). And this time, I also managed to have the pleasure to be tied by him during UBU's holiday's nawakai.

Categoría: Archivo
Visto: 3689
The international line-up for the 2-day Toubaku event now includes two more acts that didn't make it into the flyer on time:
Categoría: Archivo
Visto: 5524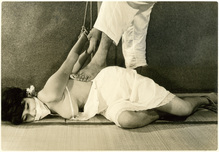 100-1a) (れん)の1 愛川悦子
58年12月発売の(れん)12枚組です。写真裏に1~12までの番号がふってあり、それの順番にアップします。


Categoría: Archivo
Visto: 3918
以前からの常連の皆様、そしてサンスポさんを見て来て下さった皆様、ご訪問ありがとうございます。m(_ _)mサンスポさんに掲載して頂いた昨日、訪問者数が一気に倍に。Σ(・ω・ノ)ノ!!さすが、天下のサンケイスポーツ様。その影響力の凄さに、改めて驚かされました。(´∀`)ヾ今回掲載して頂いた記事は、こんな感じでした。ベタ褒め過ぎですww恐縮でございます。m(_ _)m掲載記念という事で、拡大版の公開です。(画像をクリックする
Categoría: Archivo
Visto: 2267
John Santerineross (via callas'mixi diary)
Categoría: Archivo
Visto: 1952
In the movie "Manji" is a good illustration
of the basic japanese principle
"the less shown, the more erotic"
Categoría: Archivo
Visto: 1868
der beinahe schon vergangene September 2010 war mit sehr viel Aufregung und anderen schicken Highlights gefüllt. Der besuch der Stammtische im Aaretal sowie die KinkyPleasures und einer specialPerformance mit JTR hatten meine volle Aufmerksamkeit. Nebst den Workshops die mit sehr viel Lerneifer und viel Energie besucht wurden , fanden auch noch das eine oder andere …
Weiterlesen
Categoría: Archivo
Visto: 2257
定期的にヒーローが現れるんですが普通のヒーローとはちょっと違うんですよねー変態レンジャーと運が良ければあえちゃうかもしれません(笑)
Categoría: Archivo
Visto: 2697
I am not able to update often recently.
Because I'm busy before my departure...just this short of my departure...

Four dominas will go to Europe togeher.